Activity
Jozankei with beautiful valley and abundant nature
Jozankei is famous as a scenic spot where you can meet beautiful scenery in each season, such as "Shiraito no Taki(白糸の滝)", "Yu no Taki(湯の滝)", and "Maizuru no Toro(舞鶴の瀞)".
Get away from the hustle and bustle and take a leisurely walk to enjoy nature.
Mori YOGA
Stretch your body and stay healthy in a luxurious healing space! And more beautiful !
It is a class that even those who are new to yoga and those who are physically stiff can participate without anxiety.
Date
Held every Saturdays
Time
10:30~11:20 <50 minutes>
Price
1,760 yen
Number of Participants
10 persons / 1 lesson
Important Points
*The deadline will be reached as soon as the capacity is reached.
Please be sure to wear comfortable clothes and bring water of rehydration.
Participation benefits
For customers who use Day Trip Yoga
As an additional option, there are ① our lunch buffet
+2,500 yen / ②our onsen +900 yen / treatment spa, etc... in addition to the above charges.
Please contact us at the time of booking for details.
Other
*Reservations must be made 5 days in advance.
Nordic Walk & our hotel Lunch Buffet
By walking with two poles (stock), you can do aerobic exercise using the whole body, and you can walk for a long time with a natural posture. Let's enjoy walking while feeling in the refreshing air of the forest and negative ions.
Date
From middle of May. to middle of Oct.
*Held every Saturdays, Sundays, and Holidays
Price
4,500 yen
(Nordic Walk + our Lunch Buffet + our onsen)
Time
09:30 / meet at Lobby
11:15 / Lunch buffet
12:35 / after Nordic Walk and Lunch, take a bath
Included Price
Rental Pole and insurance
Other
**If in case, Lunch time may be from 13:00 to 14:20 in the latter half.
*This plan will be suspended in case of rain.
*Reservation required until 2 days
Rental e-Bike
The e-Bike is not only less tiring and practical, but also pursues pedal efficiency and is designed to directly connect to propulsion. It is possible to cover the difference in physical strength and enjoy the ride together.
Date
From Apr. to Oct.
Manufacturer
YAMAHA
Model Number
YPJ-XC
Price
1 hour 1,100 yen

*Extension is + 550 yen for 30 minutes.
**7 hours plan 5,500 yen
Rental Conditions
Only for hotel staying guests, junior high school students and above (height 150 cm or more)
*There is no size for those under 150 cm or for children.
Included Price
Helmet (required to wear)
*Protectors can be rented upon request (free of charge)
Important Points
・If you are under 20 years old, you need parental consent.
・You need to sign the application form and consent form at the time of rental.
・Please show your ID Card(driver's license or passport that can be used to verify your identity) when renting.
・When renting, please ride safely according to the Road Traffic Act.
Other
*Reservation required on the day or in advance.
Jozankei Toyohira River Canoe
This course is around 1km and takes 60 minutes. You can enjoy forest bathing at a reasonable price with this course.
Date
From middle of Jun. to early of Nov.
Time
①10:00~11:00 ②12:00~13:00 ③14:00~15:00
Price
・Adults / 4,000 yen
・Elementary students / 3,000 yen
・over 3 years old / 1,000 yen
Number of Participants
from 2 persons
Available Age
Over 3 years old
*Children must be accompanied by guardian.
Included Price
Includes Canadian canoe, life jacket fee, insurance and consumption tax.
Other
*Reservation required until the day before.
Activity Company
AMUSE SPORTS (アミューズ スポーツ)
Horse Trekking WILD RIDE
It is a facility where you can experience Western style horseback riding at "Hakkenzan(八剣山)". A professional guide will guide you carefully so you can participate with safety.
Price
・50 minutes 10,000 yen
・80 minutes 15,000 yen
Number of Participants
from 1 person
Available Age
Elementary school students and above
*Please refrain from heart disease, pregnant women, and drunk people.
Important Points
・Even those who are new to horseback riding can participate.
・You will operate the horse all by yourself.
*Please note that not all people can advance at a trot each courses for safety.
Other
*Reservation required until 3 days
Place
Hakkenzan (八剣山)
Activity Company
WILDMUSTANG'S(ワイルドムスタングス)
Tree Trekking&ZIP Line *1 time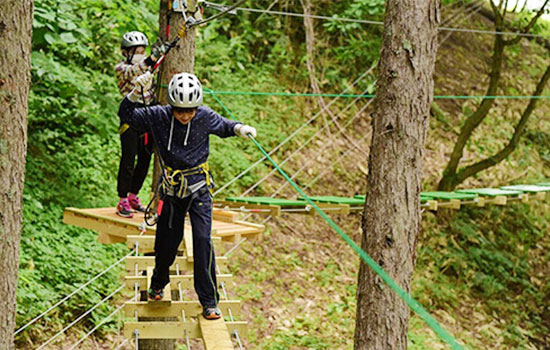 At a height of 10m at the highest point, trekking through a number of obstacles and a zip line that slides down a wire of up to about 100m are exhilarating adventure attractions.
Date
From early of May. to end of Oct.
Price
Adults over junior high school age / 2,460 yen

*Included Admission fee
(Children 4-12 ages / 2,350 yen)
Participation Conditions
・Height 130 cm or more
・Weight 90 kg or less
・Elementary school students or older, 65 years old or younger.
*However, children under 140 cm can participate on condition that they are accompanied by a person over 150 cm (charged).
Other
*Reservation required until the day before.
Activity Company
Jozankei Farm(定山渓ファーム)
North Safari Sapporo
About 30 minutes by car from the center of Sapporo. An experience-based animal theme park near Jozankei Onsen area. Many of the more than 100 species of animals in the park are not only seen but also you can interact with animals, which is the attraction of this park. Feeding animals that you can experience for an additional fee is also popular.
Date
Summer / From end of Apr.
Winter / From early of Jan.
Price
1,800 yen
**Other experiences and activities start from 500 yen.
Winter
Snowshoe Trekking
Snowshoes is a tool that allows you to easily walk around the snowy fields in winter without sinking even on fluffy snow because the area that touches the ground is large. This activity is recommended for people who want to try winter sports and for children to make their debut in the snowy mountains, as they can be enjoyed regardless of age or gender.
Date
From early of Dec.
Price
4,500 yen
(Snowshoe + our Lunch Buffet + our onsen)
Included Price
Rental snowshoes and pole
Other
Please be sure to wear warm clothes especially winter (ski wear, knit cap, neck warmers, gloves, etc...).
Place
Around Jozankei Onsen area
Ski or Snowboard
The largest "Sapporo KOKUSAI Ski Resort" in Sapporo City, located about 30 minutes by car from the hotel. With a vast slope with a maximum gliding distance of 3.6km and a wide variety of 7 courses, it is also a place where you can enjoy powder snow, which boasts Hokkaido.
Date
From early of Dec. to end of Mar.
Price
1 DAY Lift Ticket
・Adults / 4,600 yen
・Elementary school students / 1,000 yen

*There is a discount for our staying guests.
Place
Sapporo KOKUSAI Ski Resort
(札幌国際スキー場)
【 NOTICE 】
・All prices include Tax.
・Contents are subject to change.
Reservations / Inquiries
Jozankei Tsuruga Resort Spa MORI NO UTA
Tel. +81-11-598-2671 (09:00 - 21:00)

→