←

Buffet
[ NOTICE ]
*At the buffet restaurant, we will strengthen further infection prevention measures so that everyone can enjoy it with confidence as below;

① BUFFET RESTAURANT "Mori Buffet" changed to a restaurant that does not use tongs.
② Plates such as hors d'oeuvres is served on the table, and other dishes are changed to a small plateful style on the food display corner.
* Depending on the situation, we may change the method of serving food and guide you.
③ As a splash prevention measure, a lid or film are set for each plateful dish.
④ We will limit the number of people who can enter the restaurant and will guide you seat with a space between other seats.
* Depending on the situation, we may guide you to enter the two-part system.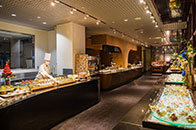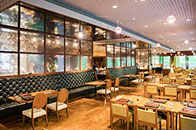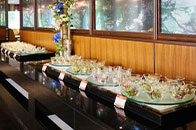 **Depending on the situation, it may be changed and we may guide you.

In addition to the above, please note that we may change the business contents and operate it with the safety of guests and our staff members as the top priority.

Sorry for this inconvenience.
The hotel's Forest Buffet restaurant experience begins with its fun signboard featuring a white rabbit jumping into a hole reminiscent of a fairy tale. Guests follow this white rabbit through a narrow corridor that houses the hotel's wine cellar and arrive at the restaurantís forest-inspired main dining area, which features oversized windows with views of the Jozankei forest and fun chair backs with wildlife motifs. Amidst this unique setting, guests are transported to a land with a kaleidoscope of food and wine choices including cold dishes using fresh local produce, oven fired pizza and hot dishes as well as jams made of fruit from the forest and specialty desserts created onsite. Indulge yourself in this fairy-tale like restaurant where you can relax and enjoy an unforgettable all-you-can-eat dining experience.
■ Dinner
・Open Hours 18:00 - 21:00 (Last seating time is 19:30)
■ Breakfast
・Open Hours 07:00 - 09:30
*Please note that guests who check in after 19:30 will not be served dinner, and no refund will be given.
*Open hours may change without prior notice.
→
×CLOSE